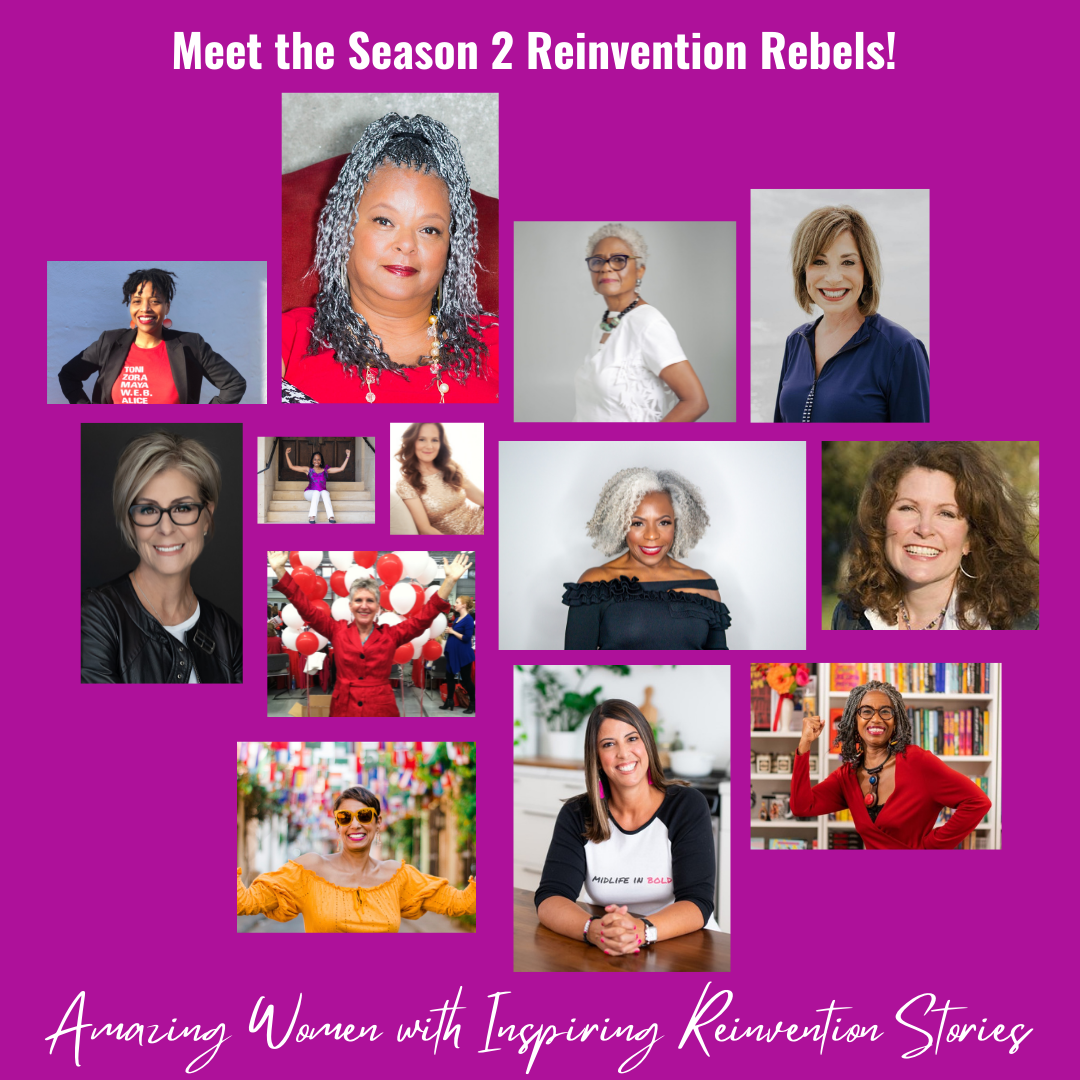 What happens when you find a tribe of A-MA-ZING women, 50 to 90 years young, and ask them to share their bold and inspiring reinvention stories? Pure pro-age, reinvention magic, that's what!
Season 2 of the Reinvention Rebels podcast is a wrap. I am eternally grateful for each of these beautiful souls who graced me with their presence over the last 6 months!
The end of the season also means it's time to walk down memory lane with a highlight episode. These amazing stories of boldness, courage, self-permission, resilience and pro-age badassery will have you excited to think about your own life!
Mentioned in this episode:
Episode 1: 53-year young Kelley Norcia – Helping Women 50+ See Their Inner & Outer Beauty
Episode 2: Solo World Traveler and Whiskey Intern at 61 with Natalie Wester
Episode 3: Ready to Reinvent? Let's Get Curious
Episode 4: 50 is the New 50: Live BOLD with Loukia Mastrodimos
Episode 5: How I Reinvented Myself as a Published Author at 62 with Arlene Walker
Episode 6: Flex Your Muscle, Find Your Courage & Reinvent Your Life
Episode 7: Reinvention at 70: Purpose, Persistence & Positivity with Barbara Healy
Episode 8: Reinventing My 70s – Modeling at 72, Kickboxing at 74 with Carolyn Doelling
Episode 9: Reinvention at 61 – Liberated & LIT with Ife Michelle Gardin
Episode 10: How I Reinvented 61: Pivots & New Possibilities with Kim Boudreau Smith
Episode 11: Accelerate Your Reinvention Journey with Commitment, Purpose & Passion
Episode 12: Camp Reinvention – Helping Women 50+ Change Their Careers by the End of the Year with Dana Hilmer
Episode 13: How I Reinvented My 50s, 60s and 70s to Manifest My Dreams with Janet Luongo
Episode 14: My Midlife Reinvention in Spain – From Academia to the Oprah of Menopause with Lori Tharps
Episode 15: Recipe for Midlife Reinvention: Launching a National Beauty Brand at 56 with Angel Cornelius
Please Share What You Loved
If you enjoyed this episode please rate and review on Apple Podcasts, Podchaser, Castbox or leave a comment at reinventionrebels.com