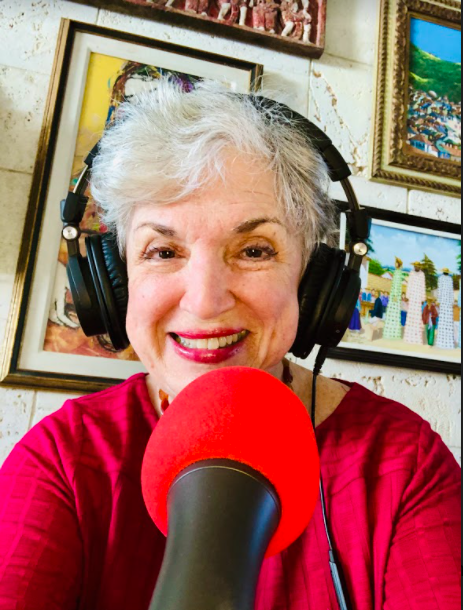 Can you imagine embarking on something new at exciting that you've never done before in your late 70s and sharing it with the world?
That's just what happened when an almost-80 year young travel writer couldn't globetrot thanks to the pandemic. With time on her hands, she created an award-winning travel podcast, at 79, with listeners in over 110 countries.
Meet the energetic and engaging Lea Lane – noted author, travel blogger for Forbes.com, and now, podcast host. Lea shares her gifts for travel, conversation and adventure with listeners on her podcast, Places I Remember with Lea Lane.
Can't travel right now? Lea gives us a global passport to soak up the beauty and joy of traveling.
Where some see age limitations, Lea sees possibilities for learning, personal growth, and new experiences.
Her story is inspiring on many levels. I love what she shares about:
✳️ How the pandemic and health challenges led her to reinvent herself as a podcaster at 79
✳️ How she expanded her mindset to see new possibilities beyond her imagination
✳️ What she's gained from her reinvention journey and podcasting
✳️ What she learned from others' inspiring stories that we can apply to our own lives
✳️ Why we should follow our dreams at any age
✳️ Why we need to keep our minds sharp and our hearts open
✳️ How she turned her love of travel into a career
✳️ How to get started with traveling solo and her top 3 travel destinations
This episode will inspire and transform your ideas about what's possible as we age. Lea proves that age is simply a number and there are truly no limits. She eloquently illustrates and expresses the desires of so many of us as we age – to live full out, boldly and with deep joy and satisfaction.
Connect with Lea:
Award-winning travel podcast: Places I Remember with Lea Lane
Website: placesirememberlealane.com
Twitter: @lealane
Instagram: PlacesIRememberLeaLane
Facebook travel page: PlacesIRememberwithLeaLane
LinkedIn: PlacesIRememberLeaLane
Please Share What You Loved
Your feedback means everything to me! If you enjoyed this episode please rate and review on Apple Podcasts, Podchaser, Castbox or leave a comment at reinventionrebels.com
Please spread the word! Let's encourage more women to unapologetically embrace their Inner Reinvention Rebel and boldly pursue their wildest dreams.
******
Let's Stay in Touch!
Visit me at reinventionrebels.com
Check out other things I'm up to here: http://linktr.ee/reinventionrebels
I'm building an empowering community of midlife and older women (aka Reinvention Rebels) on Instagram – I'm @reinventionrebels.
Want more radiance and energy? Ready to reclaim your healthy, midlife body in 2022? Come join us! Live every day with greater wellbeing and joy. Learn about the Camp Reinvention 12-Week Success Accelerator Program. No need to go it alone, let's get healthy together!