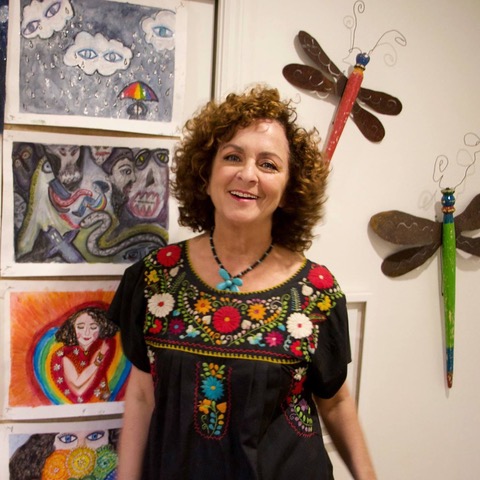 What happens when two women named Wendy/Wendi get together? Pure reinvention magic!
Don't you love when you meet someone new and you have an immediate connection? Like you've known each other for years?
That's what happened when Wendi Knox joined the Reinvention Rebels guest chair. We clicked. And I happily soaked up her 66-year young energy, wisdom, and grace.
Wendi is amazing and insightful. She is an author, artist and "uplifter" – seriously, how cool is that, an uplifter? 💜
She shares her delightful reinvention journey, how she soars at 66, and the power of dragonflies to light her path.
She is a true Reinvention Rebel.
She has unapologetically reinvented herself with courage and joy.
She embraces life with open arms and will inspire you to do the same,
In this episode Wendi shares how:
dragonflies were the key to her reinvention
she let go of old stories to grow her reinvention wings
she helps women transform their muck into magic
we can harness the power of nature to nurture ourselves
knowing and trusting ourselves is the key to revealing our inner wisdom
She reminds us that it's never too late to soar, even if we've never done it before!
Connect with Wendi:
Website: WendiKnox.com
Swing by Wendi's website to soak up more of her wisdom and light.
Sign up for her email list and you'll get an illustrated pdf with 5 Dragonflying Lessons.
Wendi is pleased to offer a 20% discount on her book, From Muck to Magic, to all Reinvention Rebels listeners. Use code MAGIC at checkout.
*******
Please Share What You Loved
Your feedback means everything to me! If you enjoyed this episode please rate and review on Apple Podcasts, Stitcher, or at reinventionrebels.com
And please spread the word!! Let's encourage more women to unapologetically become Reinvention Rebels.
******
Let's Stay in Touch!
Visit me at reinventionrebels.com
Let's build an empowering community of older women (aka Reinvention Rebels) on Instagram – I'm @reinventionrebels.
Don't forget to visit Reinvention Rebels on Facebook
Subscribe to the Reinvention Rebels podcast on Apple Podcasts, Subscribe on Google Podcasts, or Subscribe on Spotify. (or wherever you listen to your favorite podcasts!)