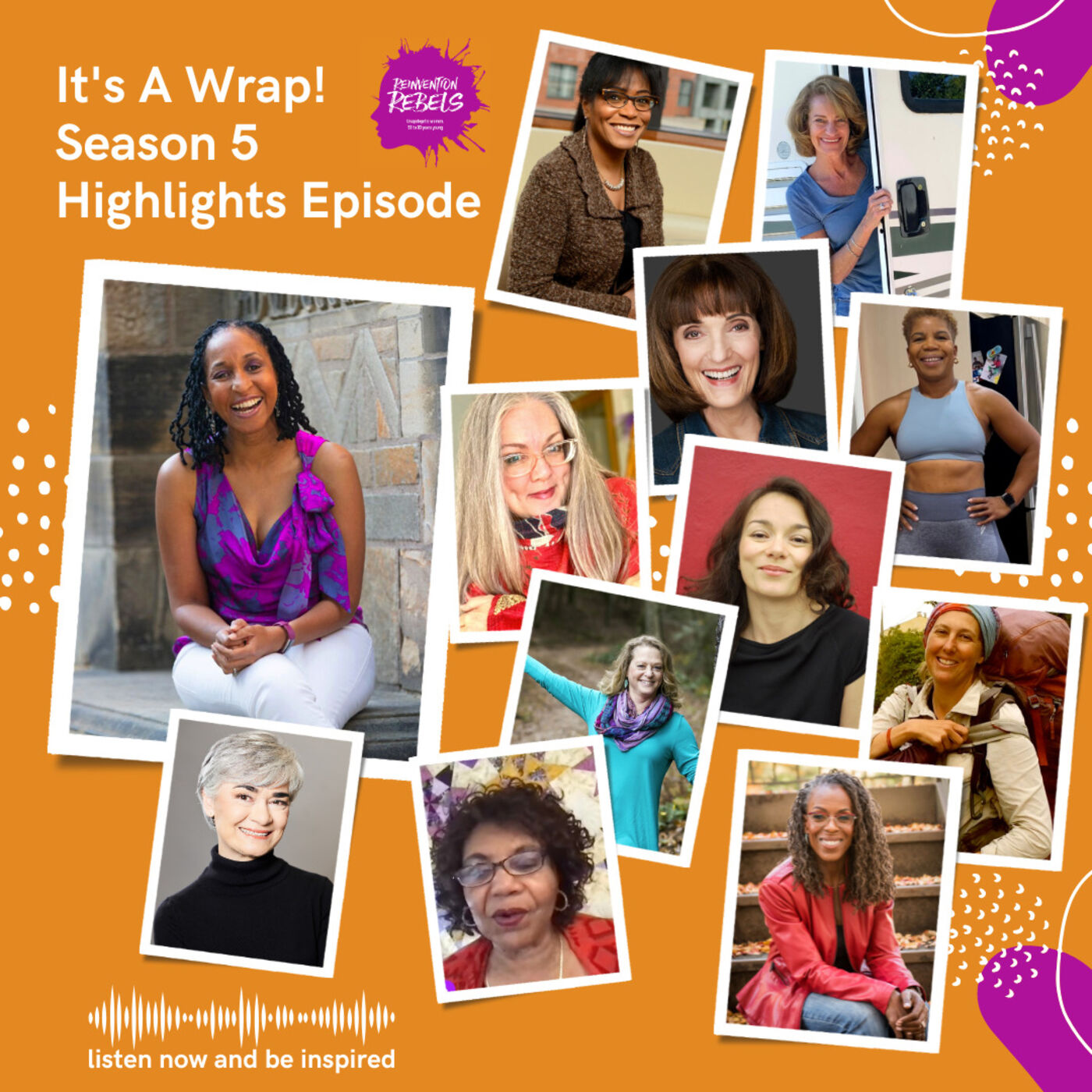 Remember when your limits were only as far as your imagination could take you?
When you believed you could be anything and age was merely a number?
Well, hold on tight as we take you on a memorable journey, celebrating extraordinary women who haven't just dared to dream, but have reinvented themselves to turn those dreams into reality.
Age is just a number for these inspiring women who have all broken the mold and rewritten the narrative of what aging truly means.
Were they scared? Heck yes! But they didn't let that stop them!
These stories of reinvention will fill you with awe and they may just  ignite a spark within you:
✅Wendy Green, 69,  hosts Hey, Boomer live podcast
✅Patricia Melton, Reinvention-ista at 63
✅Michelle Fishburne, 12K Mile Solo RV Trek during COVID
✅Randye Kaye, Reinvention (Again!) at 70
✅Dahlia Douglas-Ingram, Instagram "Fit-fluencer" at 55
✅Robin Salls, Created first-ever magazine for silver-haired women
✅Ana Tajder, Breakdown + Intuition = Midlife Reinvention
✅Kathy Murray, Award-winning triathlete at 62
✅Jenn Baljko, 3-year trek from Bangkok to Barcelona
✅Ellen Pankey, 74, Reinvention after life-threatening accident
✅Lisa Franco, antique shop + WWII love letters = first-time author at 66
This season finale episode is about taking control of your destiny, challenging the norm, and daring to live the amazing life you so richly deserve  (Yes, YOU!) despites obstacles in your way.
It's time we flip the script on ageism, embrace possibility, and keep shining our light in the world.
When one woman reinvents to see new possibilities, she signals to the rest of us that we can do it too, in our own unique way. These extraordinary women will help you see the light and get into action despite your fears.
Listen to this engaging highlights episode, then tune into each of these fierce and empowering reinvention stories, linked above.
And don't forget to download the Do It Scared, Do It Anyway Cheat Sheet.
Season 6 is coming soon. Until then, stay radiant, stay rebelicious and stay tuned!
*****
Please Share What You Loved
Your feedback means everything to me! If you enjoyed this episode please rate and review on Apple Podcasts, Podchaser, Castbox or leave a comment at
Ready to pursue your midlife and beyond dreams? Here's a simple and fun way to get started and kick uncertainty to the curb! Download my audio cheat sheet, 5 Questions to Spark Your Curiosity and Inspire Your Reinvention Journey. Let's get inspired together. 🥳 It's never too late and you're never too old to pursue your dreams!
*********
Thanks for joining me, let's reinvent and get inspired together!
Let's connect:
Instagram: @reinventionrebels
Twitter: @rebelsreinvent
Facebook: @ReinventionRebels